About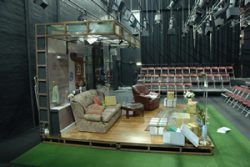 Contents
Introduction
I have worked for Sherman Cymru as Deputy Technical Stage Manager, Scenic Carpenter and a few other titles both as a member of the house staff and a freelancer. In my normal theatre guise I am a freelance Scenic Carpenter working from Cardiff and with strong links to the workshops in the Sherman, spending a fair amount of time building for them or for others in their space.
As a Youth Worker I have just (in April 2012) completed a period of nearly 3 years as the Full Time Youth Worker to "Youth Space" a project bringing the Youth Work of the Methodist Church in Cardiff and Caerphilly together under one umberella and also creating a new Youth Centre to improve the standards of Youth Work within the church and to work with young people within the community around our buildings.
If I get any spare time I like to spend it outdoors and with camera. Which by the way is a Nikon D70 with choice of F2.8 18-170 or an F4 80 – 250 plus of course the offboard flash unit and pile of filters all lugged round in a bag that I keep being told is far too big for anyone to take up a hill. But yes I do like shooting landscapes when I get the time to go out and about. I also have (but not always carry) a Manfrotto monopod with ball head which is just the best camera related investment (ok so second after the D70) I have ever made or a set of Manfrotto legs with 3 way head and that really is too heavy to cart about everywhere so only comes out on special occasions. The monopod is fabulously light but at the same time the head will lock solid, and ever better has a nice smooth slip action on it so with the long lens your not waving all over the place the head can do some of the holding still for you.
Formal training
I recieved my formal theatre training at the Bristol Old Vic Theatre School from which I graduated with a BA in Professional Stage Management.
My level 3 Certificate in Christian Youth Work comes from the Centre for Youth Ministry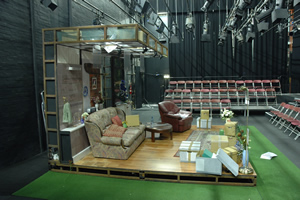 Theatrical credits
Professional Credits
Spring 2009 – Deputy Technical Stage Manager – Sherman Cymru
Autumn 2008 – Head Carpenter – The Snow Queen Sherman Cymru
Summer 2007 – Technical Manager – Storm on the Lawn Theatre Royal Bath
Summer 2008 – Assistant Technical Manger – 21st World Scout Jamboree
Easter 2007 – TSM & Site Liaison – Sequins and Sawdust
Roles at the Bristol Old Vic Theatre School
Spring 2008 – Technical Stage Manager, Tartuffe, Circus Space Bristol
Spring 2008 – Construction Manager, Twelfth Night, Redrave Bristol
Autumn 2007 – Technical Stage Manager, The Threepenny Opera, BOV Studio
Summer 2007 – Construction Manager, Midsummer Night's Dream, BOV Theatre Royal
Spring 2007 – Location Manager on BOVTS training TV Shoot
December 2006 – LX Operator, The Wind in the Willows, Redgrave Bristol
November 2006 – Sound Designer, The Vicar of Wakefield, BOV Studio
Prior to studying at BOVTS, I attended the University of Bristol where I was Training Manager of the Stage Technicians' Association and worked on over 30 productions in various roles.
I can drive and is comfortable operating a telescopic handler. My background in music has led to competent score reading. He has a keen interest in productions at non-standard venues.